The best part of these cooler Autumn days is coming home to a bright pink box full of books! The perfect addition to a warm cup of tea and a cozy fire to warm you up from the crisp Autumn air.  I am loving the book mail from my FRESH FICTION NOT TO MISS BOX OCTOBER 2018! If you are a book lover then you know what it is like to not have something to read, even on the go. The perfect box of books to pack with you to take on vacation or to enjoy on a night in by the fire. I love getting my Fresh Fiction box each month because it is full of physical books and ebooks making it easy for me to always have a great read at my fingertips. Fresh Fiction takes the guesswork out of finding what to read next. Seeing that bright pink box in the mail each month is like Christmas Day! I have discovered some amazing books and remarkable authors through this monthly book subscription box. Fresh Fiction Not To Miss Box is the perfect gift for the book lover or a nice little treat for yourself. Never run out of amazing reads with a box full of paperback books and ebooks!
Fresh Fiction Not To Miss Box is a subscription box that is unique compared to many of the other monthly subscription boxes. Each box is different and no two boxes are alike but all include the featured book for that month. October 2018's box is titled Runaway with October and the featured book is The Royal Runaway by Lindsay Emory. Please find the amazing assortment of books that I received in my box below!
Subscribe to Fresh Fiction Not To Miss Box using coupon code LOVELY5 and get $5 off your first box!
The books I received in my Runaway with October 2018 box.
The Royal Runaway by Lindsay Emory – paperback – publication date of October 9th, 2018 by Gallery Books – Romance
For fans of The Princess Diaries and The Royal We comes a fun and daring novel about a modern-day princess who teams up with a spy to find out what happened to the fiancé who left her at the altar—and who just might get her own fairytale in the process.
Princess Theodora Isabella Victoria of Drieden of the Royal House Laurent is so over this princess thing. After her fiancé jilted her on their wedding day, she's finally back home after spending four months in exile—aka it's back to press conferences, public appearances, and putting on a show for the Driedish nation as the perfect princess they expect her to be. But Thea's sick of duty. After all, that's what got her into this mess in the first place.
So when she sneaks out of the palace and meets a sexy Scot named Nick in a local bar, she relishes the chance to be a normal woman for a change. But just as she thinks she's found her Prince Charming for the night, he reveals his intentions are less than honorable: he's the brother of her former fiancé, a British spy, and he's not above blackmail. As Thea reluctantly joins forces with Nick to find out what happened the day her fiancé disappeared, together they discover a secret that could destroy a centuries-old monarchy and change life as they know it. Funny, fast-paced, and full of more twists and turns than the castle Thea lives in, The Royal Runaway is a fresh romantic comedy that will leave you cheering for the modern-day royal who chucks the rulebook aside to create her own happily-ever-after. Amazon   –   Goodreads
Dragonfire (Dark Kings #14) by Donna Grant – paperback – publication date October 30th, 2018 by St. Martin's Press – Paranormal Fantasy Romance
Passion burns hot in Dragonfire, the next Dark Kings novel from New York Times bestseller Donna Grant.  It was a soul-deep longing, one that got into his bones and settled there, sending whispers of desire through him. The need, the hunger, grew tenfold with every breath. . . .
As a Dragon King, Roman is sworn to protect all mortals–even though they no longer believe in dragons. But deep in the Carpathian Mountains, he discovers a beautiful and mysterious gypsy who possesses the power to see into his very soul. To reignite the fire in his heart. And to help him find the long-lost sword that could save the dragons forever. Sabina remembers the stories her grandmother told her. Legends of dragons and kings, fire and ice. And she's never forgotten the dark prophecy that filled her ancestors with fear–a fate they tried to prevent by stealing a Dragon King's sword. Sabina knows that helping Roman is dangerous. He is a dragon betrayed, and more powerful than any man. He could destroy her in a single fiery embrace. But how can she resist the longing in his eyes–or the feelings in her heart–when their destinies are bound by desire? Amazon  –  Goodreads
The Sound of Distant Thunder (The Amish of Weaver's Creek #1) by Jan Drexler – paperback – Published September 18th, 2018 by Revell – Christian Fiction
Katie Stuckey and Jonas Weaver are both romantics. Seventeen-year-old Katie is starry-eyed, in love with the idea of being in love, and does not want to wait to marry Jonas until she is eighteen, despite her parents' insistence. So much can happen in a year. Twenty-year-old Jonas is taken in by the romance of soldiering, especially in defense of anti-slavery, even though he knows war is at odds with the teachings of the church. When his married brother's name comes up in the draft list, he volunteers to take his brother's place. But can the commitment Katie and Jonas have made to each other survive the separation?
From the talented pen of Jan Drexler comes this brand new Amish series set against the backdrop of the Civil War. She puts her characters to the test as they struggle to reconcile their convictions and desires while the national conflict threatens to undermine and engulf their community. Amazon   –   Goodreads
Undercover Memories by Lenora Worth – paperback – Published October 1st, 2018 by Love Inspired Suspense – Romance Suspense
Her most important mission…and she can't remember what it is. After amnesia strands private investigator Emma Langston in Dallas, only Detective Ryder Palladin can stop the men trying to kill her. But protective custody on Ryder's family ranch has its own risks, like falling for the handsome cowboy. Before she can untangle her feelings for Ryder, Emma must recover her memory…because she's sure someone's life depends on it, even if she can't remember whose.  Amazon   –   Goodreads
Thrall by Avon Gale and Roan Parrish – ebook – Published September 27th, 2018 by Philtre Press – Romance Mystery
Dating Sucks & Love Bites Happy couple Mina Murray and Lucy Westenra have begun to garner national attention for their quirky New Orleans true-crime podcast, Shadowcast. When Lucy's brother Harker disappears while researching the popular new dating app Thrall, they're thrown into a real-life mystery. Aided by their social media expert, Arthur, and Harker's professor, Van Helsing, they follow the trail, hoping to find Harker before it's too late.
When their investigation crosses the path of a possible serial killer, the line between fantasy and reality begins to blur. And as they race against the app's countdown clock, so does the line between friendship and love. What starts as a flirtatious rivalry between computer-savvy Arthur and techno-averse Van Helsing becomes much more, and Mina and Lucy's relationship is tested in the fires of social media. As they get down to the wire, the group discovers that nothing on their screens is as it seems—including their enemy. A modern retelling of Bram Stoker's Dracula. Amazon  –  Goodreads
Better Together (One Fond Embrace #1) by Crista McHugh – ebook – Published August 20th, 2018 – Romance
Hawaiian rancher Alex Kahale needs a temporary wife to close a deal that's vital to the welfare of his herd. Thankfully, he's already married to a woman stole his heart in less than a week, even if that same wife filed for divorce a few days after they said their "I dos." Rising country music star Britney Moore had a wild fling with a cowboy in Las Vegas a year ago which ended in a drunken drive-through marriage. Once she returned to Nashville, she filed for divorce to save her squeaky clean image. Besides, spontaneous marriages never last, and she knows better than to risk her heart on Alex. But no matter how many requests she sends him, he refuses to sign the papers. Then he sends her an intriguing offer. Come to his ranch on Kauai and pretend to be his wife for two weeks for business purposes, and he'll sign the papers. As much as Britney tries to resist his charm, Alex manages to tear down her defenses one by one until she falls for him all over again. But when the press finds out about her secret husband, will their revived romance be killed by the tabloids? Amazon   –   Goodreads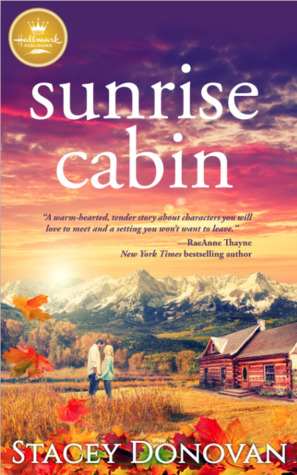 Sunrise Cabin by Stacey Donovan – ebook – Published 2018 by Hallmark Publishing – Romance
Two very different people… One very special place.
Dylan's an overworked investment banker. Paige is a free-spirited first-grade teacher. From the first time they meet, these two opposites attract. Meanwhile, the cabin Paige is renting has gone up for sale. She loves living there, and she just might be able to buy it—if she finally achieves her dream of selling her children's stories. When she learns Dylan is also determined to buy the cabin, their new romance turns into a real estate rivalry.
Dylan could tell her about his own connection to the place…but that would mean opening up about his past. As his relationship with Paige goes from funny to touching, they both discover more about love, hope, and the true meaning of home.
This romance contains a Hallmark original recipe for Maple Pecan Streusel Muffins with Cider Glaze. Amazon   –   Goodreads
Halloween at the Graff (Holiday at the Graff #1) by Sinclair Jayne – ebook – Published September 25th,  2017 by Tule Publishing – Romance
Starting over at thirty-two is never fun, especially in a town the size of a postage stamp. Chasing that with having to beg for a job she's wildly over-qualified for and Walker Wilder's pride is really burned. But now that she's the new events director for the historic Montana Graff Hotel, she's tasked with creating buzz and traditions to fill rooms during the off-season. Halloween may not scream touristy, but hiring a spirit-hunting TV crew will definitely grab some headlines… But when the sexy spirit hunter shows up, he haunts more than her dreams.
Calum Quest is done. He's created an entertainment empire by chasing something he's never seen and is tired of asking questions with no answers. His life has been defined by ghosts he needs to exorcise, yet, when a red-haired, grey-eyed beauty with a body that melts his mind pours him a double shot of Laphroaig whiskey and challenges him to one more round, how can he say no? Amazon   –   Goodreads
 ** I RECEIVED A COMPLIMENTARY BOX IN EXCHANGE FOR MY HONEST AND UNBIASED REVIEW. THIS POST CONTAINS AFFILIATE LINKS AND I WILL BE COMPENSATED IF YOU MAKE A PURCHASE AFTER CLICKING ON MY LINKS.**