The best part of these long hot summer days is coming home to a bright pink box full of books! I am loving the book mail from my  FRESH FICTION NOT TO MISS BOX AUGUST 2018! If you are a book lover then you know what it is like to not have something to read, even on the go. The perfect box of books to pack with you to take on vacation. I love getting my Fresh Fiction box each month because it is full of physical books and ebooks making it easy for me to always have a great read at my fingertips. Fresh Fiction takes the guesswork out of finding what to read next. Seeing that bright pink box in the mail each month is like Christmas Day! I have discovered some amazing books and remarkable authors through this monthly book subscription box. Fresh Fiction Not To Miss Box is the perfect gift for the book lover or a nice little treat for yourself. Never run out of amazing reads with a box full of paperback books and ebooks!
Fresh Fiction Not To Miss Box is a subscription box that is unique compared to many of the other monthly subscription boxes. Each box is different and no two boxes are alike but all include the featured book for that month. August 2018's box is titled Guessing for August and features one of two books (Paradox by Catherine Coulter or Marry Me by Sundown by Johanna Lindsey). Please find the amazing assortment of books that I received in my box below!
Subscribe to Fresh Fiction Not To Miss Box using coupon code LOVELY5 and get $5 off your first box!
The books I received in my Guessing for August 2018 box.
Marry Me by Sundown (Callahan-Warren #3) by Johanna Lindsey (hardback)  Summoned back to Philadelphia from the social whirl in London, Violet Mitchell never expected to find her brothers living on the edge of financial ruin while their father seeks new wealth in Montana's gold fields. With the family's home and social standing at risk, Violet makes a drastic decision. Morgan Callahan rode away from his family's cattle ranch to make his own fortune. Now as he finishes exploiting a mother lode of silver, a young woman claiming to be his late partner's daughter turns up wanting to be taken to her father's mine. Suspecting that the pretty schemer works for the mining outfit that is trying to steal his land, he has no qualms about snatching her and holding her at his camp where she can do no harm. Morgan underestimated the new thorn in his side. Determined to claim what rightfully belongs to her family, Violet summons up the courage, grit, and spunk to cope with the hazards and discomforts of an untamed land and the disturbingly masculine stranger who holds her fate in his hands. But an error of judgment brings down a hailstorm of calamity and danger that upends her plans and deepens her bond to a man who is not the brilliant match a lady wishes to make but could be all that a strong, passionate woman desires. AMAZON  GOODREADS
The Fashion Designer (The Pattern Artist #2) by Nancy Moser (paperback) Annie Wood, the housemaid-turned-pattern designer in The Pattern Artist, jumps at the chance to design her own clothing line when a wealthy New York couple offer to finance her endeavor. Joining the project is Annie's new husband, Sean Culver, her best friend at Butterick, Maude Nascato, and a mother figure, Edna Holmquist.  Annie and her colleagues give up their careers, risking everything to follow a shared passion: clothes that are both fashionable and functional for modern, busy women in 1912. Personal and financial setbacks threaten to keep the business from ever selling a single dress and test old relationships and new romances. No one said it would be easy. But the promise of the American Dream holds a deep hope for those who work hard, trust God, and never give up.  AMAZON  GOODREADS
Second Chance at Two Love Lane (Two Love Lane #3) by Kieran Kramer (paperback) Sometimes love is waiting in the second act. In her professional career, Ella Mancini plays matchmaker at Two Love Lane but, in her personal life, she takes the stage at the Dock Street Theatre. Now she has a chance at a new role in a Hollywood movie that happens to be filming in Charleston—one that features a big-name actress, Samantha Drake. Long ago, Ella passed up a major audition while awaiting a marriage proposal. Not only didn't she get the role; she never got the ring, either. Instead, her boyfriend Hank went on to become a huge film star…leaving her, and all her dreams, behind. But now Hank's back in Charleston, cast as the male lead in the same movie Ella's in. In spite of the dramatic tension off-screen, he and Ella try to stay cool onset. But when their old feelings start to heat up—at the same time leading-lady Samantha tries to play cupid—all bets are off. How can Hank convince Ella, after all this time, that she's the one he really wants to be within real life—and that some happy, rom-com endings really can come true? AMAZON  GOODREADS
A Rumored Fortune by Joanna Davidson Politano (paperback) Tressa Harlowe's father did not trust banks, but neither did he trust his greedy extended family. He kept his vast fortune hidden somewhere on his estate in the south of England and died suddenly, without telling anyone where he had concealed it. Tressa and her ailing mother are left with a mansion and an immense vineyard and no money to run it. It doesn't take long for a bevy of opportunists to flock to the estate under the guise of offering condolences. Tressa knows what they're really up to. She'll have to work with the rough and rusticated vineyard manager to keep the laborers content without pay and discover the key to finding her father's fortune–before someone else finds it first. Award-winning author Joanna Davidson Politano welcomes readers to Trevelyan Castle, home of the poorest heiress in Victorian England, for a treasure hunt they'll not soon forget. AMAZON  GOODREADS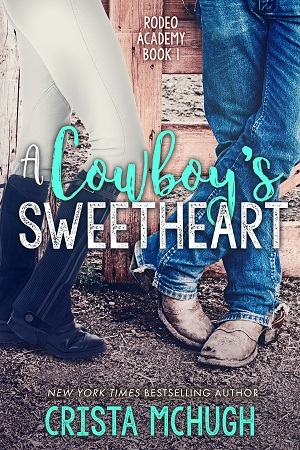 A Cowboy's Sweetheart (Rodeo Academy #1) by Crista McHugh (ebook) Pampered New York Socialite and dressage rider, Kensington Pope, has been exiled by her jet-setting parents to her aunt's Rodeo Academy in Wyoming. She wants nothing to do with the rough and tumble students there, especially one particularly handsome cowboy, Javier. But she won't be there for long. She has a plan in place to break out after her next international competition. Javier Cruz takes one look at the spoiled city girl and instantly dismisses her. The school of tough knocks has already educated him on what the important things in life are, and he has bigger things on his plate. He's counting down the days until his eighteenth birthday when he can pull his younger siblings from the foster care program and reunite his family. But as he gets to know Kensi, he sees a kindred spirit and discovers there's more to her than meets the eye. Kensi begins to question her desire to flee the ranch as her relationship to Javier deepens and she learns the importance of family. But when he discovers her escape plan, will he be able to trust her again? And when tragedy comes to the ranch, will Kensi be able to step up and take her place in the family?  AMAZON  GOODREADS
Dangerous Currents by Kathryn Knight  (ebook) When a costly mistake ends Malorie Montgomery's career, she returns to Cape Cod in search of a fresh start. But her plans for a new—and quiet—life are quickly derailed when she makes a grisly discovery in the woods, and her screams bring the one person from her past she'd hoped to avoid. Dean Slater, the ex-boyfriend who broke her heart in high school, now lives in the beachfront community that was supposed to be her haven…and he's just as hot as he was six years ago. With his rough background, Dean always knew he wasn't good enough for the kind, intelligent beauty who claimed his heart, but somehow he'd believed their love was strong enough to survive anything—until the tragic night she turned her back on him when he needed her trust the most. Despite their painful history, Dean can't resist the instinct to protect her, especially when it becomes apparent there's a killer in their town. Their former chemistry soon reignites, but Malorie has long accepted that her dark family secret has destined her to a life alone. And when she uncovers evidence that makes her the killer's target, a deadly confrontation threatens to destroy any possibility of a second chance. AMAZON  GOODREADS
Subscribe to Fresh Fiction Not To Miss Box using coupon code LOVELY5 and get $5 off your first box!
 ** I RECEIVED A COMPLIMENTARY BOX IN EXCHANGE FOR MY HONEST AND UNBIASED REVIEW. THIS POST CONTAINS AFFILIATE LINKS AND I WILL BE COMPENSATED IF YOU MAKE A PURCHASE AFTER CLICKING ON MY LINKS.**