The best part of a long day is coming home to a bright pink box full of books. I am loving the book mail from my  FRESH FICTION NOT TO MISS BOX JUNE 2018! If you are a book lover then you know what it is like to not have something to read, even on the go. I love getting my Fresh Fiction box each month because it is full of physical books and ebooks making it easy for me to always have a great read at my fingertips. Fresh Fiction takes the guesswork out of finding what to read next. Seeing that bright pink box in the mail each month is like Christmas Day! I have discovered some amazing books and remarkable authors through this monthly book subscription box. Fresh Fiction Not To Miss Box is the perfect gift for the book lover or a nice little treat for yourself. Never run out of amazing reads with a box full of paperback books and ebooks!
Fresh Fiction Not To Miss Box is a subscription box that is unique compared to many of the other monthly subscription boxes. Each box is different and no two boxes are alike but all include the featured book for that month. June 2018's box is titled Jump for June and features the book The Secret Ingredient for a Happy Marriage by Shirley Jump. Please find the amazing assortment of books that I received in my box below!
Subscribe to Fresh Fiction Not To Miss Box using coupon code LOVELY5 and get $5 off your first box!
The books I received in my Jump for June – June 2018 Box
The Secret Ingredient for a Happy Marriage (O'Bannon Sisters #2) by Shirley Jump (paperback) – Nora has always been the sister who binds the O'Bannons together. No matter what crisis hits, smart, dependable Nora knows how to fix it. But for Nora, the pressure of perfection is taking its toll.
Nora's marriage is in trouble, and she has been reluctant to worry her sisters with just how dire her situation is. Now though, faced with losing her husband, her home, and the life she's worked so hard to build, Nora can no longer pretend.
As the O'Bannon women rally around her, Nora begins to see that failure is nothing to fear. It's like they say in the bakery: if you want to make something good, you can't be afraid to get messy. When her husband returns, asking Nora to give their family a second chance, Nora must decide if their relationship can be saved or if it's time to throw out the old recipe and start from scratch.  GOODREADS   –   AMAZON
Wingbound (Wingbound #1) by Heather Trim (ebook) – Ledger is supposed to fear and despise the Sky People of Ellery. When an Ellerian girl named Alouette with beautiful, white wings sneaks into his village, everything changes. With his village at war with the winged people who live on the floating island that circles their world, he does the unthinkable: he befriends her.
In Ledger's seventeenth harvest, Ellery returns empty. The Sky People are gone, Alouette is missing, and Ledger must make a difficult choice—continue life as usual in the blacksmith workshop or board the island against the elders' wishes and find her. From debut author Heather Trim comes a vibrant fantasy where following the rules isn't always the right thing to do when you were born to be the exception.  GOODREADS   –   AMAZON
A Sheriff's Passion (Frontier Montana #3) by Michelle Beattie (ebook) – Shane McCall has dedicated his life to rise above the smear his father put on his last name. As sheriff of Marietta, Montana, his reputation is finally above reproach and he aims to keep it that way. A difficult task made impossible since he made the mistake of kissing Silver Adams. Courting a saloon owner is not Shane's idea of respectability, but when his brother comes to town and turns her head, Shane realizes the only arms Silver belongs in are his.
Silver Adams has stared down many challenges, but when she moves to Montana, she finally has independence and a sense of pride. With her close circle of friends and a successful saloon, the only thing missing from her life is love. When Silver finds everything she has been looking for in the arms of an upstanding lawman, she feels her dreams have come true until her disreputable past threatens all Silver holds dear, and now Silver must make the hardest decision of her life—telling Shane the truth.  GOODREADS   –   AMAZON
No Less Days by Amanda G. Stevens (ebook) – How many lifetimes can God expect one man to live? Over a century old, David Galloway isolates himself from the mortal humans who die or desert him by making a quiet life as a used bookstore owner in Northern Michigan. But then he spots a news article about a man who, like him, should be dead.
Daredevil celebrity Zachary Wilson walked away unscathed from what should have been a deadly fall. David tracks the man down, needing answers. Soon David discovers a close-knit group of individuals as old as he is who offers the sort of kinship and community he hasn't experienced for decades—but at what cost? David finds himself keeping secrets other than his own. . .protecting more than himself alone. He'll have to decide what's worth the most to him—security or community. When crimes come to light that are older than any mortal, he fears the pressure is more than he can stand. What does God require of him, and is David strong enough to see it through? GOODREADS   –   AMAZON
The Sugarhouse Blues (The Hudson Sisters #2) by Mariah Stewart (paperback) – Allie, Des, and Cara, each having her own reasons for wanting a share of their father's estate, meet in the grand Victorian home in which he grew up, only to be greeted by another secret he purposely hid from them: his sister Bonnie. The women reluctantly band together to take on Fritz's challenge, working with a local contractor to begin the renovations financed by an account Fritz had set up for the task. While the restoration appears to go smoothly at first, it soon becomes apparent that the work will be more extensive than originally thought, and Des, elected to handle the money, needs to find ways to stretch out the remaining savings while searching for new sources of funding.
As strangers linked only by their DNA try to become a family, the Hudson sisters also try to come to terms with the father they only thought they knew. In the process, each woman discovers her own capacity for understanding, forgiveness, love, and the true meaning of family. GOODREADS   –   AMAZON
The Optimist's Guide to Letting Go by Amy E. Reichert (paperback) – Gina Zoberski wants to make it through one day without her fastidious mother, Lorraine, cataloging all her faults, and her sullen teenage daughter, May, snubbing her. Too bad there's no chance of that. Her relentlessly sunny disposition annoys them both, no matter how hard she tries. Instead, Gina finds order and comfort in obsessive list-making and her work at Grilled G's, the gourmet grilled cheese food truck built by her late husband.
But when Lorraine suffers a sudden stroke, Gina stumbles upon a family secret Lorraine's kept hidden for forty years. In the face of her mother's failing health and her daughter's rebellion, this optimist might find that piecing together the truth is the push she needs to let go… GOODREADS   –   AMAZON
Then There Was You (Angel Falls #1) by Miranda Liasson (paperback) – Angel Falls is the last place Sara Langdon wants to be. Her hometown may be charming, but it's also filled with memories of her "wedding-that-never-was." Yet Sara's grandmother needs her, and joining her dad at his medical practice gives Sara time to figure out what she wants for her future. But when her first patient turns out to be Colton Walker, the man who sabotaged her wedding, Sara starts to wonder if she'll ever be able to escape her past.
As police chief, Colton Walker is devoted to his small town, and he's equally determined to avoid its newest resident. He and Sara have always gotten along like oil and water, and since the bachelor party incident, he's her Enemy #1. But after sharing an unexpected–and unexpectedly hot–kiss, Colton starts to wonder if the woman he's always fighting with is the one he should be fighting for.  GOODREADS   –   AMAZON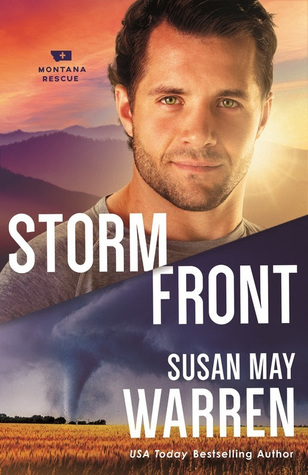 Storm Front (Montana Rescue #5) by Susan May Warren (paperback) – A tornado has destroyed a small Minnesota community and among the missing are not only a group of students but PEAK Rescue team leader Chet King. Ty Remington will stop at nothing to rescue his mentor, not even when the girl he loved–and lost–walks back into his life. But Brette needs his help more than he knows, despite her stubborn determination to push him away. And when he gets a second chance, loving her just might cost him more than he can imagine.
A blogger for Vortex Storm Chasers, Brette Arnold didn't expect her adventures to land her in the same place as Ty, the guy who she walked–no, ran–from over a year ago. She had her reasons–good ones. The kind that tells her that falling for him again would only lead to heartache. But Ty isn't the kind of man to give up–not on the missing students, or on her.
Life and love hang in the balance in Susan May Warren's breathless story of holding on to hope during a deadly summer of storms. GOODREADS   –   AMAZON
Subscribe to Fresh Fiction Not To Miss Box using coupon code LOVELY5 and get $5 off your first box!
 ** I RECEIVED A COMPLIMENTARY BOX IN EXCHANGE FOR MY HONEST AND UNBIASED REVIEW. THIS POST CONTAINS AFFILIATE LINKS AND I WILL BE COMPENSATED IF YOU MAKE A PURCHASE AFTER CLICKING ON MY LINKS.**