The best part of a rainy day is coming home to a bright pink box full of books. I am loving the book mail from my  FRESH FICTION NOT TO MISS BOX MARCH 2018! If you are a book lover then you know what it is like to not have something to read, even on the go. I love getting my Fresh Fiction box each month because it is full of physical books and ebooks making it easy for me to always have a great read at my fingertips. Fresh Fiction takes the guesswork out of finding what to read next. Seeing that bright pink box in the mail each month is like Christmas Day! I have discovered some amazing books and remarkable authors through this monthly book subscription box. Fresh Fiction Not To Miss Box is the perfect gift for the book lover or a nice little treat for yourself. 
Fresh Fiction Not To Miss Box is a subscription box that is unique compared to many of the other monthly subscription boxes. Each box is different and no two boxes are alike but all include the featured book for that month. March 2018's box is titled March in Bloom and features the book ENIGMA by Catherine Coulter. Please find the amazing assortment of books that I received in my box below!
Subscribe to Fresh Fiction Not To Miss Box using coupon code LOVELY5 and get $5 off your first box!
ENIGMA by Catherine Coulter – The highly anticipated twenty-first FBI thriller by New York Times #1 bestselling author Catherine Coulter presents Agents Savich and Sherlock with two baffling mysteries. Working with Agent Cam Wittier (Insidious) and New York-based former Special Forces agent Jack Cabot, they must race against the clock to catch an international criminal and solve the enigma of the man called John Doe.
When Agent Dillon Savich saves Kara Moody from a seemingly crazy man, he doesn't realize he will soon be facing a scientist who wants to live forever and is using "John Doe" to help him. But when the scientist, Lister Maddox, loses him, he ups the stakes and targets another to take his experiments to the next level. It's a race against time literally as Savich and Sherlock rush to stop him and save both present and future victims of his experiments. In the meantime, Cam Wittier and Jack Cabot must track a violent criminal through the Daniel Boone National Forest. When he escapes through a daring rescue, the agents have to find out who set his escape in motion and how it all ties into the murder of Mia Prevost, the girlfriend of the president's Chief of Staff's only son, Saxton Hainny. It's international intrigue at the highest levels and they know they have to succeed or national security is compromised. Goodreads  –  Amazon
DEADLY SECRET by Tara Thomas – In this next novel in the stunning romantic suspense Sons of Broad series from Tara Thomas comes a novel of deadly games and uninhibited passion. In the sultry streets of Charleston, one family, ruled by its powerful, take-no-prisoners sons, has risen to the top. But a ruthless serial killer is out to destroy them…and everyone they hold close…
Exclusive bonus material ONLY available in print edition! Goodreads   –  Amazon
A DUKE IN THE NIGHT by Kelly Bowen – Duke. Scoundrel. Titan of business. August Faulkner is a man of many talents, not the least of which is enticing women into his bedchamber. He's known—and reviled—for buying and selling companies, accumulating scads of money, and breaking hearts. It's a reputation he wears like a badge of honor, and one he intends to keep.
Clara Hayward, the headmistress of the Haverhall School for Young Ladies, on the other hand, is above reproach. Yet when she's reunited with August, all she can think of is the way she felt in his arms as they danced a scandalous waltz ten long years ago. Even though her head knows that he is only back in her life to take over her family's business, her heart can't help but open to the very duke who could destroy it for good. Goodreads  –  Amazon
PHOEBE'S LIGHT by Suzanne Woods Fisher – Phoebe Starbuck has always adjusted her sails and rudder to the whims of her father. Now, for the first time, she's doing what she wants to do: marrying Captain Phineas Foulger and sailing far away from Nantucket. As she leaves on her grand adventure, her father gives her two gifts, both of which Phoebe sees little need for. The first is an old sheepskin journal from Great Mary, her highly revered great-grandmother. The other is a "minder" on the whaling ship in the form of cooper Matthew Mitchell, a man whom she loathes. Goodreads   –   Amazon
ONE AND ONLY by Jenny Holiday – Miss Responsibility meets Mr. Reckless. With her bridezilla friend on a DIY project rampage, bridesmaid Jane Denning will do anything to escape – even if it means babysitting the groom's troublemaker brother before the wedding. It should be a piece of cake, except the "cake" is a sarcastic former soldier who is 100% wicked hotness and absolutely off-limits.
Cameron MacKinnon is ready to let loose after returning from his deployment. But first he'll have to sweet talk the ultra-responsible Jane into taking a walk on the wild side. Turns out, riling her up is the best time he's had in years. But what happens when the fun and games start to turn into something real? Goodreads   –   Amazon
STONE COLD by Jean Connolly – After years of working for an insufferable boss at Seattle Private Eye, Melissa Kennedy is finally able to start up her own Private Investigating business. Searching for her new office, little did she know that one of her very first clients would be a dead teen, who is set on helping her find other victims. During her first case she gets sucked into a feud between two brothers, accusing one another of trying to take their Masonry company for themselves.
Along the way she ends up pairing with a snippy Homicide Detective, who coincidentally is working the murder case of her ghost. Somehow her Masonry case gets caught in the crosshairs. Could it be possible that one of the brothers are responsible for the murder of local teenage boys? Goodreads   –  Amazon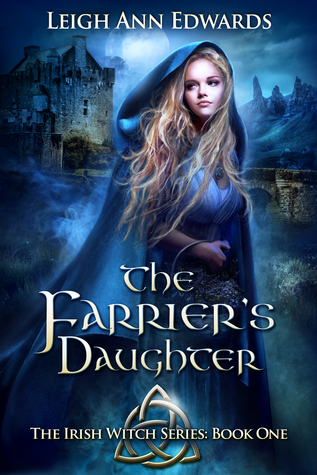 THE FARRIER'S DAUGHTER by Leigh Ann Edwards – In 16th Century Ireland. Young and beautiful Alainn McCreary, healer in training to the powerful O'Brien Clan, is on the cusp of discovering she possesses vast and unusual supernatural powers, which she hopes will help her unlock the secrets of her past and break the curse on the O'Brien Clan.
Alainn is counseled to hide her magical abilities, but how can she when dark forces rise up to threaten not only the O'Brien Clan, but Alainn and the life of the Chieftain's beloved, but forbidden nephew, Killian O'Brien, a man Alainn has loved as long as she can remember? Goodreads   –  Amazon
Subscribe to Fresh Fiction Not To Miss Box using coupon code LOVELY5 and get $5 off your first box!
 ** I RECEIVED A COMPLIMENTARY BOX IN EXCHANGE FOR MY HONEST AND UNBIASED REVIEW. THIS POST CONTAINS AFFILIATE LINKS AND I WILL BE COMPENSATED IF YOU MAKE A PURCHASE AFTER CLICKING ON MY LINKS.**