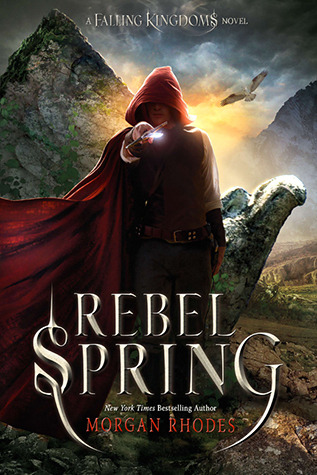 The road to power… is paved with blood and magic. Cleo is now a prisoner in her own palace, forced to be an ambassador for Mytica as the evil King Gaius lies to her people. Magnus stands to eventually inherit the new kingdom but is still obsessed with his feelings for his adopted sister, Lucia. Lucia is haunted by the outcome of the breathtaking display of magic that allowed her father to capture the kingdoms. Jonas watched at the palace gates a troop of rebels behind him, waiting for him to tell them how he plans to overtake King Gaius. After a bloody siege, Auranos has been defeated, its young queen orphaned and dethroned. The three kingdoms—Auranos, Limeros, and Paelsia—are now unwillingly united as one country called Mytica. But the allure of ancient, dangerous magic beckons still, and with it the chance to rule not just Mytica, but the whole world over…
At the heart of the fray are four brave young people grappling for that magic and the power it promises. For Cleo, the magic would enable her to reclaim her royal seat. In Jonas's hands, it frees his nation, and in Lucia's, it fulfills the ancient prophecy of her destiny. And if the magic were Magnus's, he would finally prove his worth in the eyes of his cruel and scheming father, King Gaius, who rules Mytica with a punishing hand.
When Gaius begins to build a road into the Forbidden Mountains to physically link all of Mytica, he sparks a long-smoking fire in the hearts of the people that will forever change the face of this land.
About the author:
Morgan Rhodes lives in Ontario, Canada. As a child, she always wanted to be a princess — the kind that knows how to wield a sharp sword to help save both kingdoms and princes from fire-breathing dragons and dark wizards. Instead, she became a writer, which is just as good and much less dangerous. Along with writing, Morgan enjoys photography, travel, reality TV, and is an extremely picky, yet voracious reader of all kinds of books. Under another pen name, she's a national bestselling author of many paranormal novels. Falling Kingdoms is her first high fantasy.
Author Guest Post:
One question I get a lot from readers is "did I know how the Falling Kingdoms series was going to end when I began it?" The answer is absolutely not, because where would the fun be in that?
However, it was in Book #2: REBEL SPRING that a few things began to come together in a way that, to me, helped to indicate the overall story arc of four very different characters—a rebel, a sorceress, a dethroned princess, and a power-hungry prince—as they search for a dormant magic that could mean the difference between ultimate power and complete destruction.
I am a plotter, so I know generally what is going to happen on the page. However, what I don't know is what my characters will say or how they will react to the rather tricky situations I tend to put them in.
Two characters who didn't spend much time on the same page in the first book, FALLING KINGDOMS (and when they did, it wasn't exactly happy times for them, to say the least!), Princess Cleo and Prince Magnus get a lot of time together in book two, due to an arranged marriage forced upon them at the very beginning of the book. Their scenes quickly revealed to me, as the writer, some truly palpable immediate chemistry that starts out as complete hatred from Cleo and annoyance from Magnus. Their combative conversations were the most fun parts of Rebel Spring to write and, from the reaction I've received from readers who've given them the ship name "Magneo," one of the reasons they keep coming back to the books, excited to see what will happen next.
Sooooo…. How's it all going to turn out for Magneo, you might ask? Well, I can't tell you that! There's still more than three weeks until the 6th and final book IMMORTAL REIGN is released!
Happy reading!
Morgan